The #1 Automated Tax Software
Make
More Money

and Reduce

Tax Season Stress.
SmartWiz tax software automates tasks so professionals can work faster, close more deals, and serve more clients
IRS approved and secure
Trusted by 5,000+ happy customers
Upgrade My Tax Software
Featured In



Use Cases
What can you do with SmartWiz?
The all-in-one smart software includes your favorite apps and features in one place and helps you make tax season a breeze
Easy Client Intake
Manage client's documents and information all in one organized place.
AI Tax Buddy Assistant
Use your AI assistant to help manage client errors and reply to common client questions with Smart Tax.
Seamless Data Migration
Migrate the data from your previous software and keep all of your client documents for free
Apps Integration
Bring all of your favorite bank, calendar, and communication apps to the system
Start a Tax Business
Start a new business, learn how to market and get clients, and gain a lifetime skill that gets you paid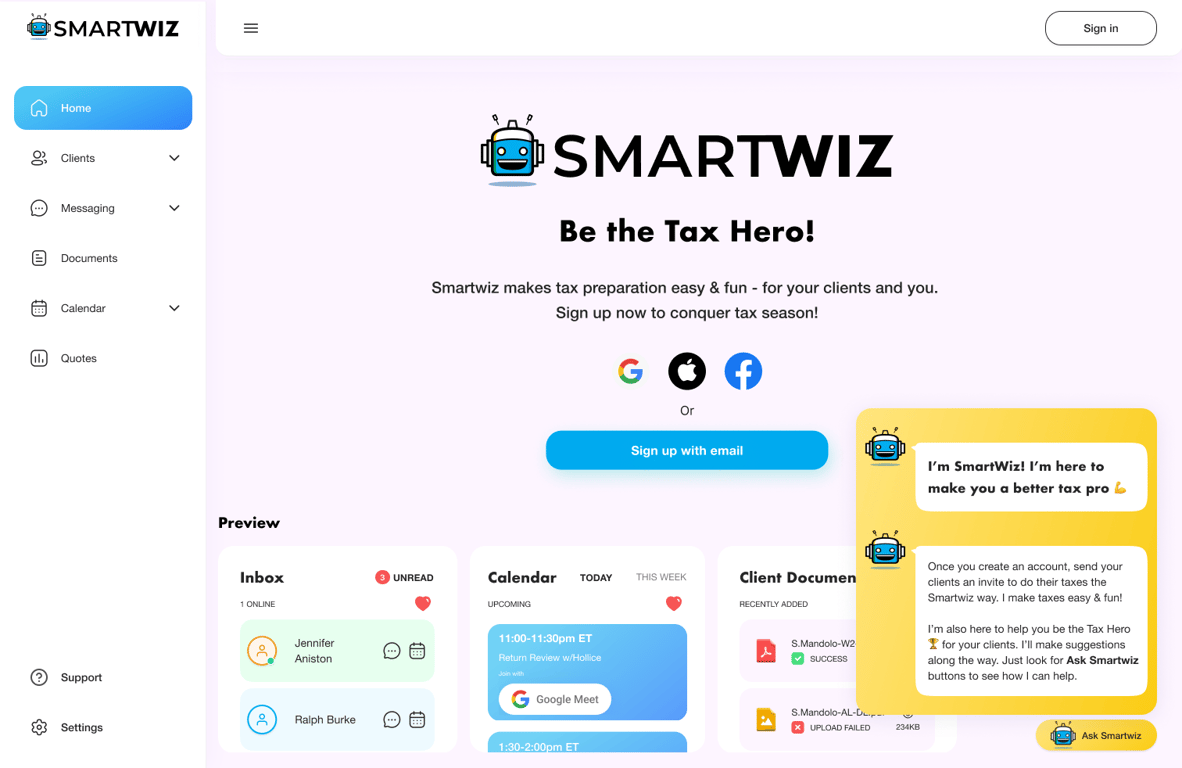 Process More Returns
with Less Effort
The SmartWiz software is designed to minimize tasks that keep you away from getting more clients. The software will automatically intake client's documents and answer client questions while you focus on making more revenue.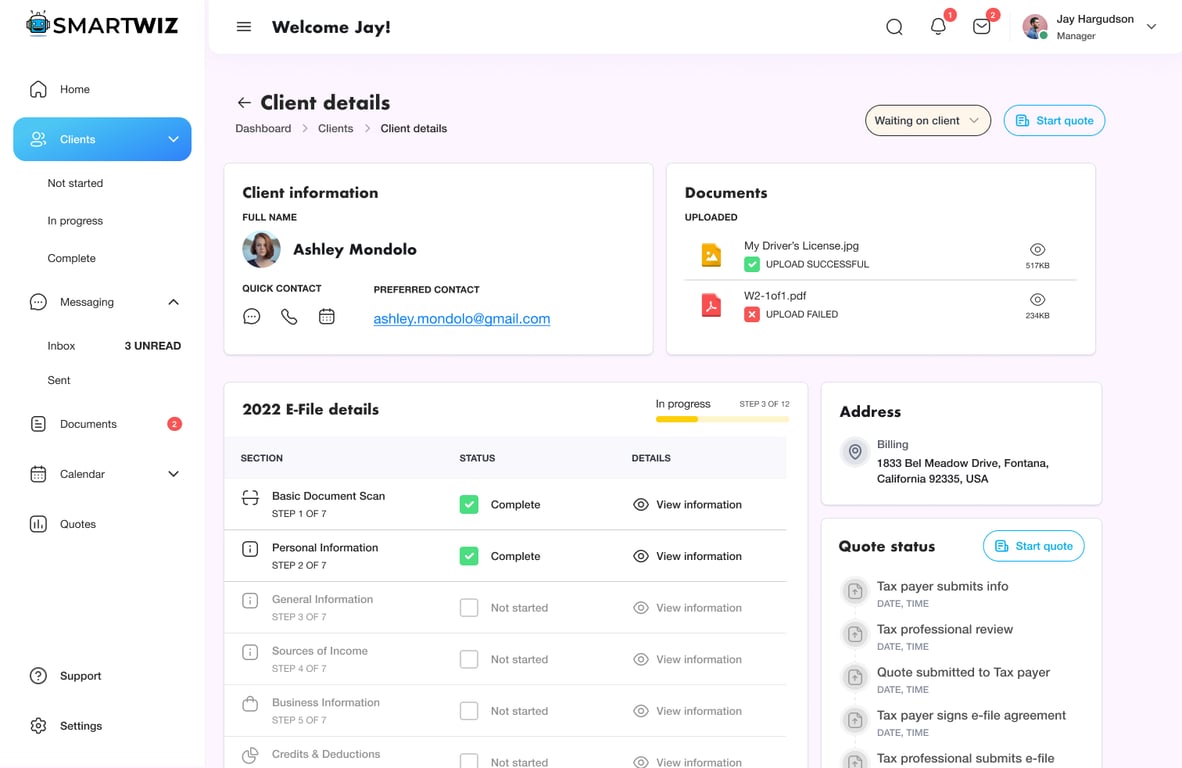 Keep More Money with the Lowest Fees In The Industry
We believe you deserve to keep your hard-earned returns. That's why we proudly offer the lowest fees in the industry so you can maximize your profits. Keep more of what you earn with SmartWiz.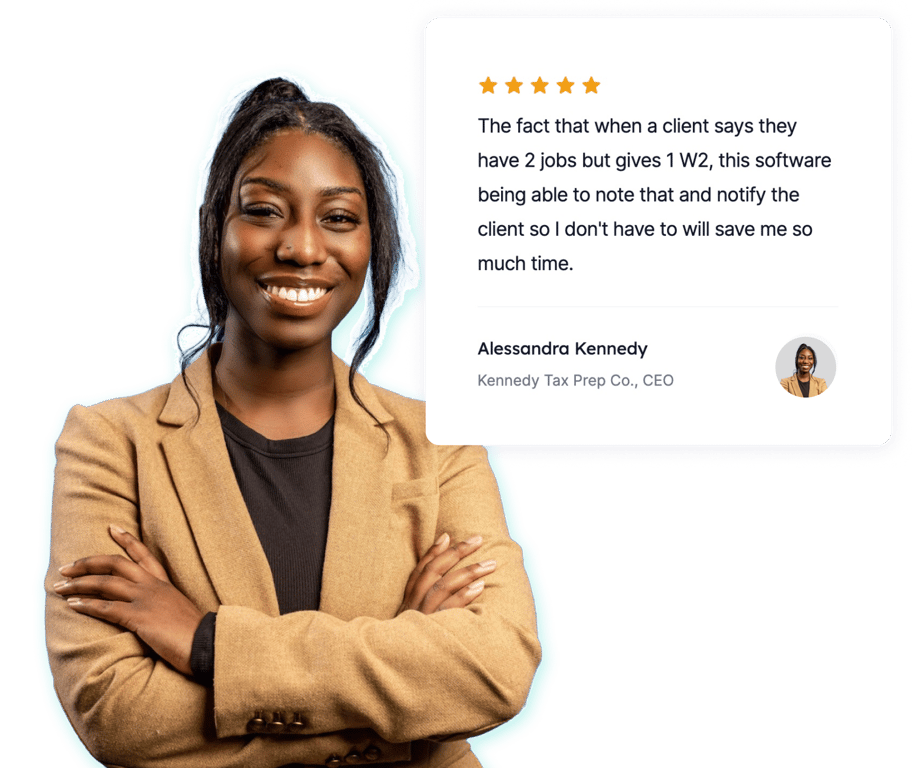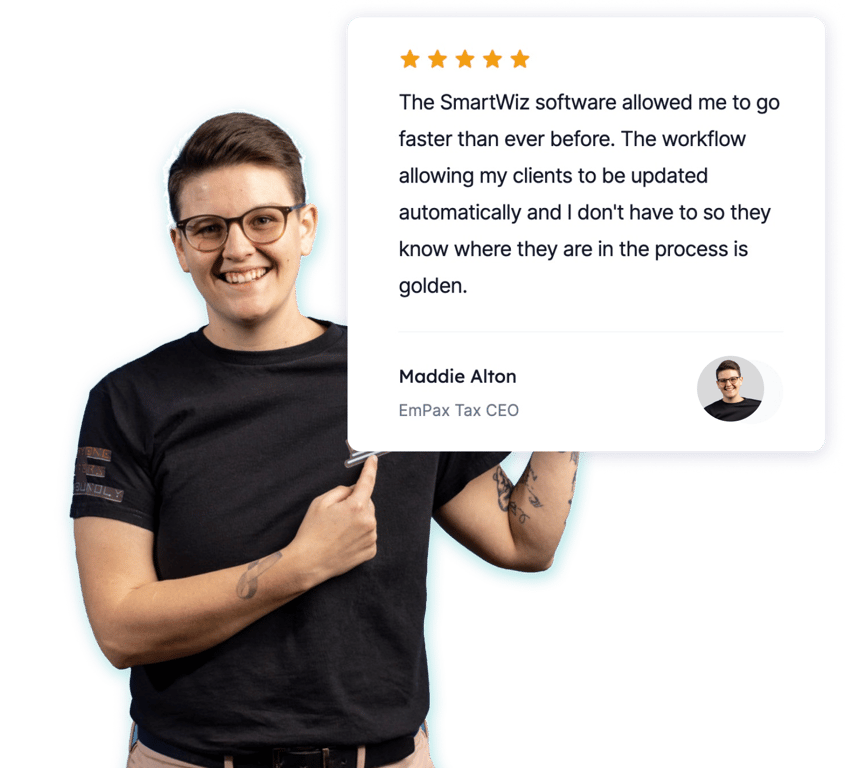 New To The Tax Game? Join the Academy!
Where like-minded entrepreneurs come to change their lifestyle.
Start a new business & earn extra income
Learn how to market and get clients
Gain a lifetime skill that gets you paid
User Reviews
Hear from Our Satisfied Customers
Professionals who have streamlined their processes with SmartWiz.
Not needing clients to email me or send me a dropbox and removing that step to having everything in one place will really organize my business.

Olivia Walker

Live Limitless Finance, CEO

This company's attention to detail to what a tax professional needs is amazing. I love the fact that they built something for the tax professionals to bring us to the future. I will never run my business the same again.

Diamond Robinson

Diamond Co Tax Prep, CEO

The SmartWiz software literally put everything I needed to run my business in one place. My clients even noted the change and loved their experience.

TJ Wisham

Wish Tax Consulting, CEO
The Best Tax Software in the Market
Secure your

early bird

discount!
Features
AI Assistant

Included in Features

Tax Calculation Software

Included in Features

All States

Included in Features

Desktop & Cloud

Included in Features

Business Returns

Included in Features

Whitelabel CRM + Customizable Workflow

Included in Features

Automated Messaging to Clients

Included in Features

Automatic Status Updates & Notifications

Included in Features

Easy Document Management

Included in Features

Calendar & Bank Integrations

Included in Features

Customer Success Manager

Included in Features

EFIN Required

Included in Features

Business Course

Included in Features

Software Navigation Training

Included in Features
Frequently Asked Questions
September 2023 we will be going up on all pricing!
You will be able to file business and individual returns with our partner Tax Wise until our tax software is fully built… beta coming in 2024
Yes! With the purchase of our software package, you receive included in your purchase the ability to complete corporations and partnership LLCs.
Yes, SmartWiz has gone through the highest levels of securities including IRS approvals and standards for documentation.
Each account has a dedicated Customer Success Manager who will act as your technical support and business manager and assistant to help with all needs for the growth of your business. You can also shoot us a message here.
Absolutely! We allow you to not only white label our product with your company's logo, but we also upgrade our entire software to match your company's colors
All banks except Refundo.
We charge anywhere between $32-$50 based on how many returns that you complete and that is it! We do not have any rev share plan and do not have any hidden fees.
This again is only for the Champion package!
Contact us here and we can construct a payment plan based on your business to ensure you have access to the software that will change how you do business!
Yes, we will transfer all data from the previous year for this upcoming tax season.